[INTRODUCTION] | [LV-ROM] | [LASERDISKS]| [SCSI] | [VFS] | [TV COVERAGE]
RELATED LINKS : [DOCUMENTS]
BBC Micro Domesday Project.

LaserDisc's
-----------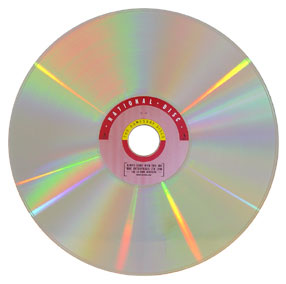 There are two 12" (30cm) 300gm LaserDiscs in the Domesday Project package: the Community Disc and the National Disc. Each disc is double sided, the side played depends on which side faces upward when placed in the player. The other side can be played simply by turning the disc over.
COMMUNITY DISC
--------------
The two sides of the the community disc contain a self portrait of Britain in the 1980's. Most of the work contained on this disk is the unedited work of local people. The community disc contains a collection of still photographs and data and is split in to Northern & Southern Districts over the two sides of the disc. The Northern side covers the North of England, Northern Ireland, the Isle of Man, Scotland and the Orkney and Shetland Islands. The split is designed to leave an equal land area on each side of the disc. Called the 'Domesday Wall' it runs just South of York.
NATIONAL DISC
-------------
The national disc represents the 'official' data of the time. Compiled from government reports & surveys, BBC information and other professionally published statistical information. The data and photos are stored on side 1 of the national disc, where as side 2 contains news movies produced by BBC Enterprises.